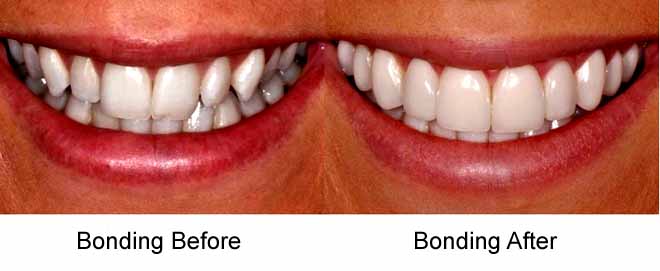 What is it?
Bonding is the application of a tooth-colored composite resin (plastic) to repair a decayed, chipped, fractured or discolored tooth. Unlike veneers, which are manufactured in a laboratory and require a customized mold to achieve a proper fit, bonding can be done in a single visit. The procedure is called bonding because the material bonds to the tooth.
What it's Used for?
Bonding is among the easiest and least expensive of cosmetic dental procedures. The composite resin used in bonding can be shaped and polished to match the surrounding teeth. Most often, bonding is used for cosmetic purposes to improve the appearance of a discolored or chipped tooth. It also can be used to close spaces between teeth, to make teeth look longer or to change the shape or color of teeth.
Sometimes, bonding also is used as a cosmetic alternative to amalgam fillings, or to protect a portion of the tooth's root that has been exposed when gums recede.
Preparation No preparation is needed for bonding. Anesthesia often is not necessary, unless the bonding is being used to fill a decayed tooth.
How it's Done
Your dentist will use a shade guide to select the composite resin color that will match the color of the tooth most closely.