First Fit Veneers Technology is widely regarded as one of today's top dental innovations; the result of years worth of dental innovation. This remarkable technology allows patients to leave the dental office with a brand new set of teeth and a brand new smile in as little as a couple of hours.
Minimally invasive and stunningly beautiful, veneers are porcelain shells that are bonded to the front of your teeth. Patients typically opt for veneers for enhance the cosmetic appearance of their smile, and gain the confident, resilient smile they've always wanted. First-Fit veneers technology leverages entirely ceramic veneers, and are a quick, economical, and robust solution to perfecting the appearance and performance of your teeth.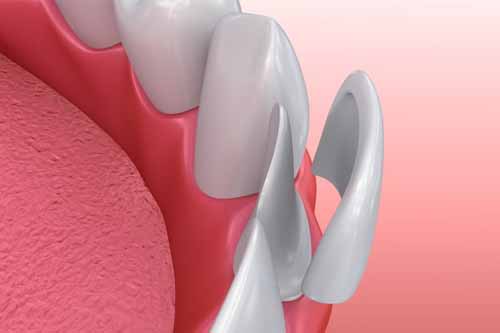 Improving Your Smile With FirstFit Veneers
FirstFit veneer technology can be leveraged to correct a variety of cosmetic issues:
Color and Shade – FirstFit veneers can correct any existing stains on the teeth, whether they be from food, coffee, tea, smoking, or other discoloration. Not only do they give your teeth a resilient new shade, but FirstFit veneers also prevent future discoloration.
Shape and Size – FirstFit veneers can help restore teeth that have been affected by grinding and damaged as a result. They work to restore the original shape of the teeth, or make them a bit wider or longer for the purpose of cosmetics.
Spacing and Straightness – Small spaces between the teeth can affect the aesthetic appearance of the teeth, as well as make it easier for food particles to become stuck between the teeth, leading to cavities and infection.
Are FirstFit Veneers Right For Me?
To know if FirstFit veneers can help restore your smile, simply fill out this FirstFit Smile Assessment and submit it. Once this form is submitted, a member of our smile team will be in touch to discuss your results as well as any necessary next steps.
Why Choose FirstFit Veneers With Dr. Ronald Chaikin?
By choosing Dr. Ronald Chaikin for your FirstFit veneers you'll receive the following benefits:
Latest Dental Technology – By using the latest digital technology and smile design software, your teeth will be prepared through guides that allow a minimally invasive preparation to preserve more of your healthy tooth structure.
Faster & Improved Process – By minimizing the preparation drilling you no longer have to worry about pain or the anxiety of sitting in the dental chair. FirstFit technology dramatically reduces visits and time in the chair.
No More Temporary Veneers – FirstFit completely removes the need for you to wear uncomfortable and in many cases, unsightly temporary veneers and enables your dentist to give you the smile of your dreams in a single visit.
High-Quality Veneers – The custom-made, all-ceramic veneers are produced using CAD/CAM technology that ensures quality, fit, function, and impeccable esthetics that meets every patient's expectations.
Who Can Perform FirstFit Veneers Procedures?
With Dr. Ronald Chaikin, you can feel reassured with our certified FirstFit dentists who have gone through extensive hours of training to become fully certified to offer FirstFit veneers to our patients.